What can a Neuroscience major do for you?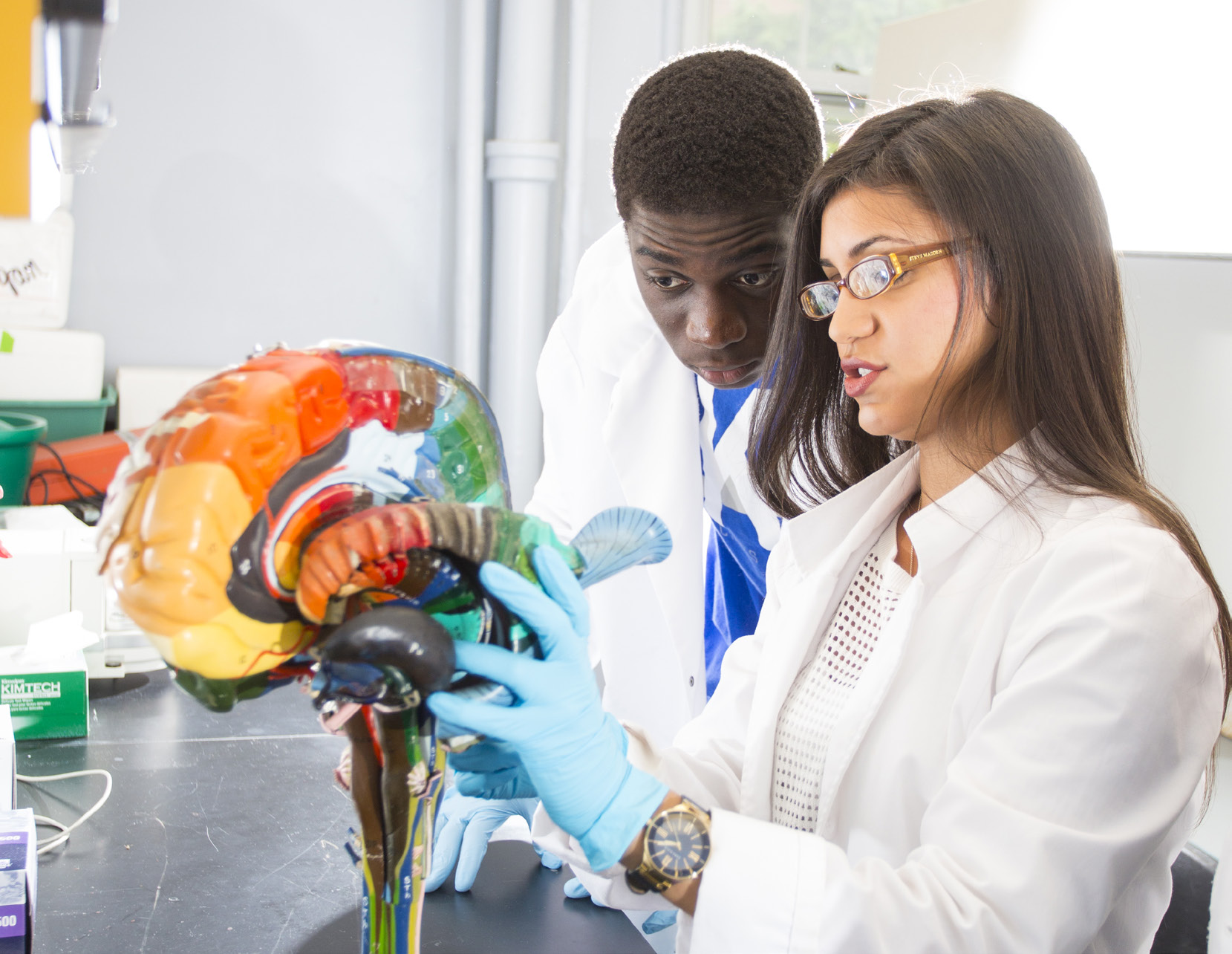 The Bachelor of Science degree program in neuroscience will provide you with an opportunity to engage in the in-depth study of neuroscience from a uniquely interdisciplinary perspective. You will receive extensive exposure to fundamental and applied aspects of neuroscience through classroom and laboratory-based interactions with faculty members and research staff from several departments housed in the College of Arts & Sciences and the College of Medicine, including biology, anatomy and neurobiology, and psychology. The scope of this training spans the entirety of key topics in neuroscience and includes the examination of biological systems ranging from cellular/molecular neuroscience, neurophysiology, neuroanatomy, and integrated neuroscience including behavior. Classroom-obtained neuroscience principles will be applied in a required six credit independent research project to be conducted using state-of-the-art technological and methodological scientific approaches in the research laboratory of a faculty member of the university. In employing this multidisciplinary, applied approach to the study of neuroscience, this curriculum will promote development of critical thinking, communication, and independent scientific skills necessary for you to pursue lifestyles and careers in neuroscience that are economically viable, socially desirable and of significant national and local interest.
---
5 Different colleges have coursework in Neuroscience
300 people make up the Neuroscience community
1,300 Neuroscience publications by UK Faculty
---
Career opportunities
Careers with a B​achelor's Degree
Opportunities for graduates with a BS in Neuroscience are wide-ranging, with median salaries for those who move immediately into the work force  ranging from approximately $30,020 to $48,400. These careers include:
Pharmaceutical Sales
Pharmaceutical Scientist
Laboratory Technician
Science Writer
Forensic Science Technician
Science Advocacy
EEG Technologist
Medical/Healthcare Manager
Medical Technician
Residential Counselor
Clinical Research Assistant
Lab Animal Care Technician
Health Educator
Pharmacy Technician
Natural Sciences Manager
Special Education Assistant
Biotechnology
Governmental Policy
Careers​ Requiring an Advanced Degree
Many students choose further education in Graduate School or Professional Programs (Clinical Psychology, Medicine, Dentistry, Pharmacy, Physical Therapy Public Health, Veterinary Medicine), and employment in education (secondary and post-secondary), academic research, including basic and clinical research, academic administration, and pharmaceutical research, as well as, related fields including scientific and medical publishing, science advocacy and government relations, and non-profit or professional organizations.
For those who pursue advanced academic or health profession degrees, the salary range is expected to be $60,000, to well over $150,000 per year.
Physician (MD or DO)
Research Scientist
Professor
Pharmacist
Patent Law
Veterinarian
Physical Therapist
Audiologist
Optometrist
Psychologist
Chiropractor
Nurse
Neuroimaging Technician
Genetic Counselor
Licensed Substance Abuse Counselor
Epidemiologist
Speech-Language Pathologist
Occupational Therapist
Public Health Policy Specialist